Legal Online SportsBook in Rhode Island
When Did Rhode Island Online Gambling Become Legal?
Governor Gina Raimondo hasn't been clear on her stance regarding a licensed and regulated online gambling industry. She received a lot of criticism for her support for IGT to maintain a dominant position with the state's gaming properties. Currently, that company controls 84% of the gaming machine market. We weren't surprised to see that IGT became the only online sportsbook provider in Rhode Island soon after sports betting was legalized.
This makes us realize: politics is very involved in the gambling industry. The gamblers would love to see a more liberal market. We would like an independent Rhode Island Gaming Commission that would license several safe sites with a versatile offer. But at the moment, the legislation prevents online casinos from operating for the residents of this state.
Senate Bill 37 was very hopeful to legalize online table games, but it only focused on sports wagering. There's no prohibition against social casinos, though. That gives you a chance to gamble online, and gain comps that you can exchange for loyalty points. MGM resorts are not far from Rhode Island, which is why MyVegas is so popular among its gamblers.
Is Sports Betting Online Allowed in Rhode Island?
The U.S. Supreme Court ruled that the PASPA was unconstitutional in May 2018. This was the act that specifically banned sports betting of all types. As soon as the states were allowed to make their own laws on the matter and issue operator licenses, they started opening up to the opportunities.
Rhode Island was the first state that held hearings about legalizing wagering. Governor Gina Raimondo signed the bill, and sports betting became legal on June 22, 2018.
Best Rhode Island Online Casinos
Two casinos are licensed to accept sports bets: Twin River Casino and Twin River Tiverton. Both of them are linked to a single online sports betting platform (maintained by IGT): William Hill Sportsbook Rhode Island. It's available as a desktop site, but it offers sports betting apps for mobile as well.
What Can I Bet on in Rhode Island?
You have several options for wagering in the State of Rhode Island:
Horse Racing Bets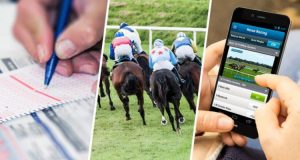 There is no horse racing facility in RI. However, off-track horse race betting is legal. Both casinos are simulcasting live horse races at least five days a week.
TVG and a few other sites enable Rhode Island residents to bet on horse races online, too.
DFS Contests
Daily Fantasy Sports are legal in this state. All big DFS providers accept RI players: DraftKings, FanDuel, Fantasy Draft, and Yahoo.
Lottery Games
The Rhode Island Lottery allows you to play Keno, Bingo, Wild Money, e-Instants, Mega Millions Megaplier, and other types of games online.
Sports Betting Online or at Retail Venues
All types of sports bets are accepted in the two casinos (Twin River and Twin River Tiverton) and one website (William Hill.com) that offers sportsbooks. Keep in mind that betting on collegiate sports is not legal in Rhode Island.
Parlay wagering, money line bets, total line, straight bets, and all other wagers are available.
What Kind of Online Horse Betting Is Available in Rhode Island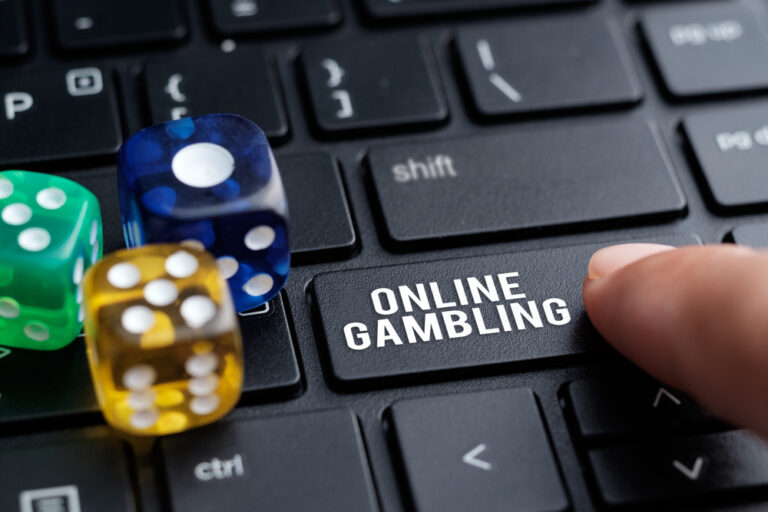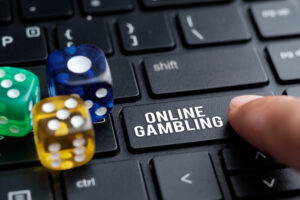 Narragansett Park was a huge attraction in this state. It was a race track for thoroughbred horse racing, which was also known by the name Fiat Avenue. It was located in Pawtucket. But a fire destroyed the clubhouse in 1981, and it has never reopened since.
Although there are no active racetracks in Rhode Island, the horse betting industry is far from being dead. Both casinos offer functional racebooks and simulcasting on most days of the week. This is called off-track betting, and it's extremely popular among gamblers in the state.
Online betting is available, too. You can check out these platforms:
TVG
BetAmerica
TwinSpires
AmWager
If you're into live horse races, it's easy to reach Plainridge Park Casino in Plainville, Massachusetts. That's one of the perks of living in a small state: it's well-connected to all surrounding states.
Legal Online Gambling Sites in Rhode Island
There's no such thing.
Online casino games haven't been approved by the legislators just yet. However, you have options:
Social Casino Sites Options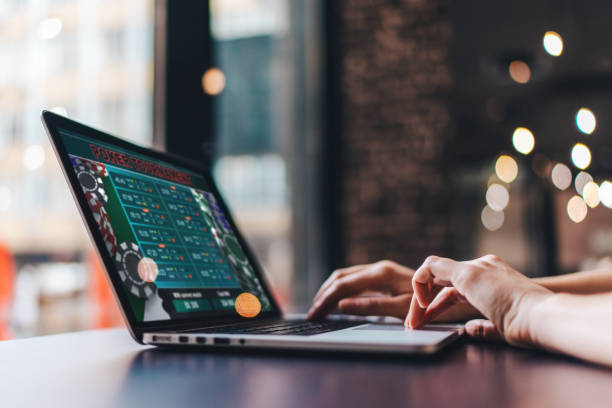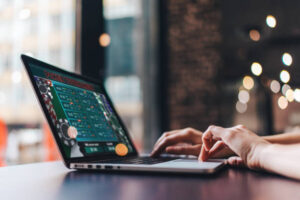 Since social casino sites do not operate with real money, you're allowed to play on them.
In fact, Twin River Casino, one of the two main gambling operators in the state, offers its own social casino website. It is hosted in Nevada, but available for RI players. You won't use real money there. You can gain virtual credits, but you cannot exchange them for money or money's worth. The website is offered just for fun.
That being said, you can also play on Zynga, Double Down, Big Fish, and MyVegas. MyVegas is particularly attractive since it's linked to MGM Resorts. MGM Grand Springfield is less than a two-hour drive away. You can redeem your loyalty rewards for actual comps there, so you practically win real money through a sweepstakes service. Borgata Hotel and Casino in Atlantic City also offers you such opportunities.
What Kind of Casino Games Will Be Available In Rhode Island?
Currently, social casino sites let you play blackjack or spin slot machines.
If (or when) online casinos become fully legal in the state, they will include poker, roulette, baccarat, and many other table games in their offer. Hopefully, we'll live to see online live dealer games available for RI gamblers.
Currently, the two land-based casinos have a full offer that's not to be underestimated. As we said, Rhode Island is a small state, so it's not that hard to reach a casino and spend a nice evening gambling.
Play Poker Online in Rhode Island
Unfortunately, online poker is no exception to the rules that are valid for all real money gambling sites. Although it is not specifically banned with the state's regulations, it's not allowed either.
There have been some negotiations between Rhode Island and Delaware for allowing Delaware's legal online poker sites to operate in this state. However, we haven't seen the outcome of that process.
Social poker sites are allowed. You can play on Zynga, but you cannot cash out your winnings.
What Does the Rhode Island Lottery Provide?
The Rhode Island Lottery is responsible for licensing and regulating the gambling industry in the state. It regulates land casinos, sportsbooks, online betting sites, and the horse betting industry. The Lottery has a responsive website, offering you to play some of its games online.
Daily Fantasy Sports in Rhode Island
If you like to play for real money and you're interested in DFS, you'll be happy to know that there are no acts prohibiting such activities in the Ocean State.
DFS sports became extremely popular in the United States, mainly because they were the only thing that came close to sports wagering when that was banned. With time, the players realized that it's a much more elaborate form of sports predictions than simple betting.
In 2016, Peter Kilmartin, Rhode Island's Attorney General came out with an opinion that DFS is likely legal under the current legal framework. He stated that although the outcome of some DFS games is purely based on chance, it is clear that it takes a high level of skill to win in those activities. According to the "dominant factor" viewpoint, DFS is not a lottery under the laws of the state.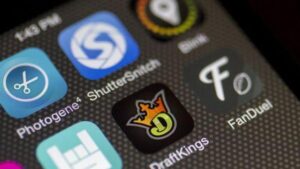 There are no specific laws regulating the industry and requiring the sites to operate under a Rhode Island gaming license. You can feel free to play on any of the sites that welcome players from this state:
DraftKings
FanDuel
FantasyDraft
Monkey Knife Fight
Yahoo DFS
Land-Based Casinos
There are only two venues for real money gambling in the state:
Twin River, Lincoln
Tiverton Casino, Tiverton
Both of them are regulated by the State Lottery. If you're willing to expand your interest across New England, you'll have a wider selection of casinos to explore:
MGM Springfield, Springfield, Massachusetts
Foxwoods, Mashantucket, Connecticut
Plainridge Park, Plainville, Massachusetts
Hollywood Casino Hotel, Bangor, Maine
Oxford Casino, Oxford, Maine
Mohegan Sun, Uncasville, Connecticut
Deposit and Withdraw from Gambling Sites
If you're interested in online gambling in Rhode Island, you can explore these options:
Daily Fantasy Games
Sports betting
Social casinos
There is only one sports betting website: William Hill. You have a few options for DFS and social casinos online.
It's important to keep a few rules in mind when depositing funds:
You have to be at least 18 years old to engage in any of those activities online. The sites will require an age verification process, so you'll have to provide your social security number or/and a copy of your ID.
You will need to choose a valid payment method. The options include credit/debit card, PayPal, Neteller, Skrill, and several others. William Hill is especially versatile with its banking methods.
We don't recommend using public WiFi for these activities. You're dealing with real payment details, so it's important to connect to the site through a safe network.
Always read the terms and conditions. All websites have unique policies for deposits and withdrawals. You can also read reviews on individual sports betting and gambling platforms. You will find several reviews on our site.
Read more about legal online gambling and betting in Rhode Island:
FAQ
Does Rhode Island have any legal betting tracks/shops?

There's no racing track in Rhode Island. The closest one is Plainridge Park Casino in Plainville, Massachusetts. However, off-track betting is available in the two casinos in the Ocean State: Twin River and Twin River Tiverton. These casinos also offer their sportsbook.
Is it legal to wager on Rhode Island sports teams?

Yes; you can wager on RI sports team, as long as they are not collegiate sports teams. Although sports betting was legalized in the state, collegiate games are exception. That's the case with the legal framework in most other states as well.
Who can bet on sports in RI?

Anyone who is at least 18 years old can bet on sports on the William Hill website. The site uses a geo-location software, so you have to be in RI or in any other state where the platform is allowed.
Is any gambling legal in Rhode Island?

The two casinos offer all types of slots and table games. The State Lottery also offers a vast range of games. But if you want to gamble online, you'll be disappointed. That's the only form of gambling that's not allowed in the state.
Can I bet online on my mobile phone in RI?

Yes, you can. William Hill, which is currently the only sportsbook authorized to offer online services, is available as an iOS app. The app gives you access to all sports and all types of bets.
Are there any taxes on winnings?

Any income generated from gambling, sports betting, lottery games, or DFS is taxable in the USA. It's important to include the amounts you win in your annual tax report.
Is social gaming allowed in RI?

Social casino games are not specifically regulated. Since the definition of gambling is related to money or any reward of any kind of value, social casinos manage to avoid the regulations. You don't play for real money on those sites. So yes; social gaming is allowed and you can do it through a few online services that we listed above.