A Review of Rhode Island Online BetAmerica Racebook
$250
Screenshots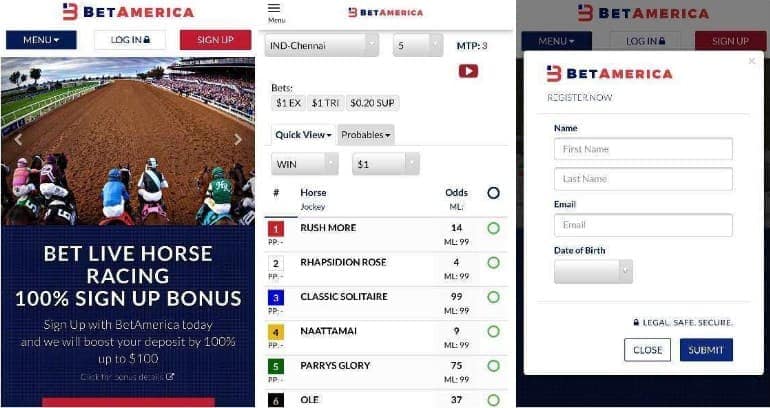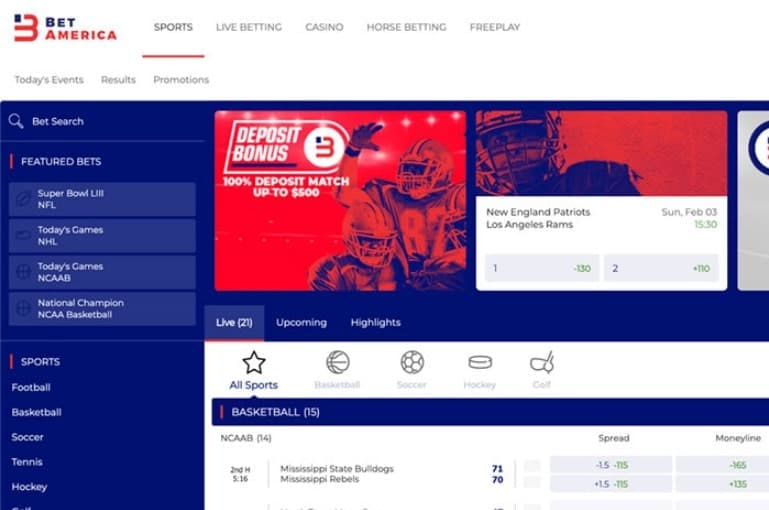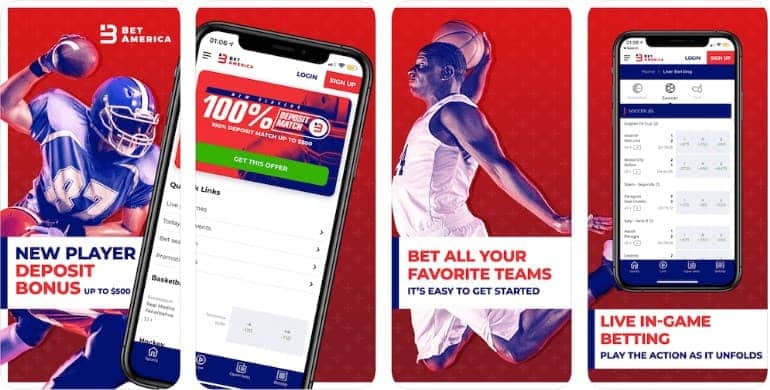 If you are interested in horse racing and gambling but have no clue where to start, this Rhode Island BetAmerica review will tell you things to know about betting online in the state of Rhode Island. If you sign up for mobile betting accounts on the BetAmerica platform, you can have a great time.
BetAmerica has made quite a name for itself as one of the best legal race betting sites in the US. For RI betting fans, BetAmerica is one of the stalwarts and highly favored names. It was established in 2008 and has since become one of the most popular gambling platforms in the country.
BetAmerica Racebook Promo Codes and Bonuses
By using a Rhode Island BetAmerica promo code, you will be able to maximize profits while minimizing costs. Here are some of them.
PLAY500 Promo Code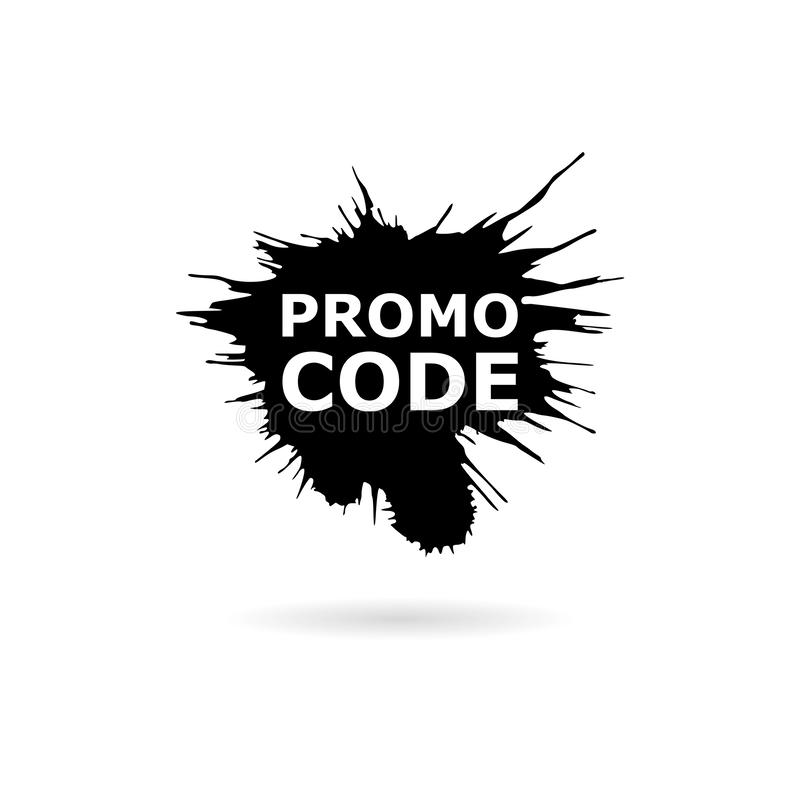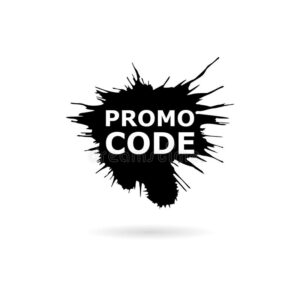 BetAmerica offers the best welcome bonus that you can unlock if you use the promo code "PLAY500". You can access this new player welcome bonus if you use this bonus code. It will entitle you to a 25% deposit matching scheme that is worth up to $500. You should use this code when you first sign up.
AMGAMBLER Promo Code
Apart from the welcome bonus offers, BetAmerica also offers a 100% deposit matching bonus for some select users. This 100% scheme is available for all deposits that are worth $500 and less. If you are new to betting on races and games, then this Rhode Island BetAmerica bonus code will save you a lot of money.
BET25 Promo Code
RI Promo Codes BetAmerica is really great and the "BET25" code will allow you to make a risk-free first bet that is worth $25. Even if you lose the first bet, you are definitely going to get $25 transferred to your account. You can redeem this code when you make your very first real money bet.
Rhode Island BetAmerica Loyalty Program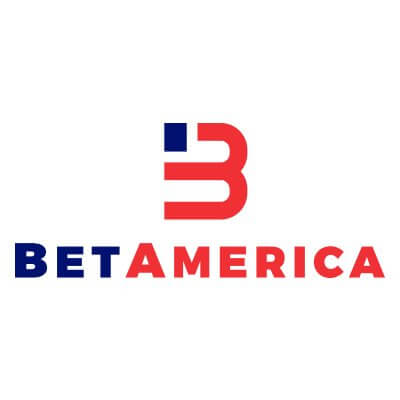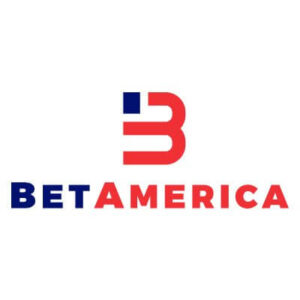 BetAmerica rewards are very lucrative and they have a fantastic loyalty program in place as well. Every calendar year, you will be provided with a VIP status depending on the amount of money that you have wagered in the previous year. By becoming a VIP member, you can access special benefits for the coming year.
BetAmerica Racebook Betting Types
Here are some betting types that you will be able to access while you take part in the in-game live betting on the BetAmerica platform.
Win Bet: A win bet is the simplest and most basic bet type that you will be able to access on the best online betting sites in the US. A win bet is a simple wager where you predict which horse is going to win in one particular race. The risk is slightly high but the rewards are worth it.
Place Bet: A place bet is a moderately less risky version of the win bet. BetAmerica race betting in Rhode Island will let you place bets where you bet on a horse to come in the first or the second position. The rewards for race bets like these are high while the risk involved is slightly less.
Show Bet: The show bet is a bet that has the least risk of all. In this bet, you will be asked to wager on a horse who you think will make it in the top 3 of a race. As this bet is relatively safe, this type of bet usually comes with higher betting limits and smaller rewards.
Exacta Bet: The exacta bet is one of the most exciting bets that one can place on any gaming website. In this bet type, you have to wager on two horses which you think are going to come in first and second. It is very important to specify the positions of the horses as well while making the bet.
Trifecta Bet: The trifecta bet is significantly riskier than the exacta bet, where you have to bet on the top 3 podium finishers of a particular race. This bet is best left to seasoned gamblers who have a good grasp of the Rhode Island BetAmerica racebook odds.
Quinella Bet: A quinella bet is a variation of the exacta bet which does not depend on the order of the winners. You just have to wager on which two horses are going to come first and second in the race. This kind of bet is great for high-limit wagers and perfect for all kinds of live betting.
Superfecta Bet: The superfecta bet is a high-stakes huge reward bet that is an improvement upon the trifecta bet. In this bet type, you have to bet on the first four finishers of a particular race in the exact order. You should use a BetAmerica promo code for this bet if you want to minimize the risk involved.
Daily Double Bet: The daily double bet is a new version of the win bet. Instead of wagering on the winner of one race, you have to wager on the winners of two particular races. It's a good idea to research the BetAmerica true odds and study up about BetAmerica handicapping before you make a daily double bet yourself.
Super 3/4/5/6/7/8 Bet: The Super 3/4/5/6/7/8 bet is a riskier version of the daily double bet. In this bet type, you have to bet on the winners of 3 to 8 consecutive races. This bet type is also always offered by any good mobile racebook operator such as BetAmerica.
BetAmerica Racebook Mobile Experience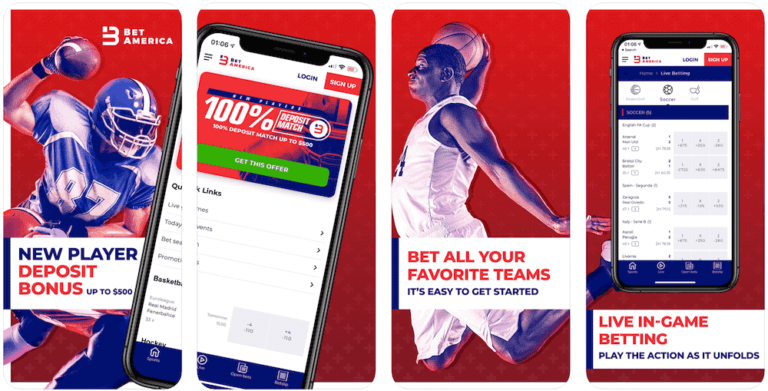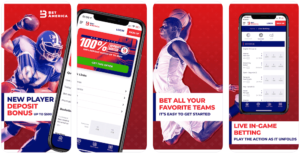 Not everyone has access to their computer all the time. For such people, the BetAmerica app is a very simple and convenient solution. If you have a mobile phone, then you can download the mobile app from the app store and start playing almost immediately. It's one of the best betting apps in the US.
If you have an Android phone, then you will be able to download the BetAmerica Android app from the Google Play app store as well. The app will let you access your very own online casino at any time you like. The software is very good and is regularly updated – all to provide you with the best online gaming experience.
BetAmerica Racebook Banking and Withdrawal Methods
This section of the RI BetAmerica online review will tell you about the different banking and withdrawal methods you can use to deposit/withdraw money into your BetAmerica account. To deposit cash, you can simply use your credit/debit cards. It is also possible to deposit money into the account using e-wallets or wire transfers.
Once you have earned some race betting revenue for yourself, you will also be able to withdraw the money directly into your bank account or the e-wallet of your choice. Keep in mind that the transaction takes some time to verify for the first time. After it has gone through once, it will come through much quicker the next time.
BetAmerica Customer Support Experience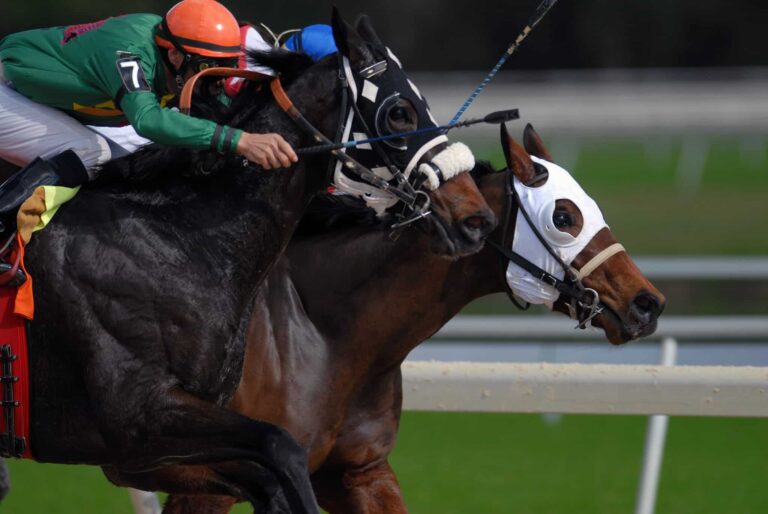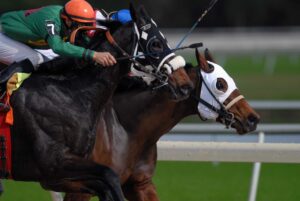 The BetAmerica customer service experience is very good, which is something you will find in most of the betting bookmaker reviews on the internet. They are very prompt and capable of handling any doubts you may have. For any additional doubts regarding odds and races, you can also call the BetAmerica horse racing phone number and ask.
Latest BetAmerica News
A judicial review overturned the Professional and Amateur Sports Protection Act (PASPA), which outlawed sports betting in the US. Ever since then, sports betting has been legal in most of the US states but has also been subject to BetAmerica state restrictions. This is why you should check your local laws before signing up on any online casino.
BetAmerica Racebook Review: Conclusion
In conclusion, it is very important to remember that you should visit BetAmerica directly in Rhode Island if that is where you live. BetAmerica is 100% legal in Rhode Island and you will be able to have a very good time playing on this website. You can also get a BetAmerica gift card for a friend or loved one.
Choosing the right sportsbook is a complicated process that requires you to check different platforms before you start playing. Fortunately, we prepared all information in our reviews, so it is highly recommended to read these articles to learn more about other websites in Rhode Island and pick up the best one:
Frequently Asked Questions
Is BetAmerica online racebook legal in Rhode Island?

Yes, the BetAmerica online racebook is 100% legal in the state of Rhode Island. Although state restrictions might apply in other states, there are no problems if you're from RI. Ever since 2018, sports betting has been legal in RI.
How can I watch horse races in Rhode Island?

You will be able to watch horse races in Rhode Island on the internet. If you sign up on any online casino or racebook, you will be able to watch races there without any problem. You can also check YouTube.
Is there an iOS app on BetAmerica?

For Apple iPhone and iPad users, there exists an iOS app that you can download on the Apple Store. This app will let you gamble and bet on your favourite horses on the go. It is just perfect for all on-the-move gamblers.
Is Greyhound betting available in Rhode Island?

No, greyhound betting is not legal in the state of Rhode Island. While horse racing is legal, dog racing is mostly illegal in all the states of the US. Apart from a few states in the South, it is mostly illegal elsewhere.