Tiverton Casino Review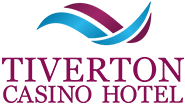 Screenshots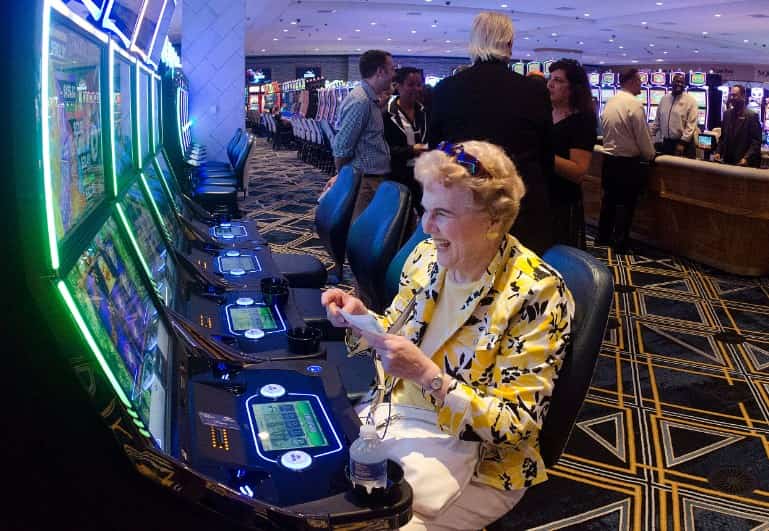 Tiverton Casino had its opening ceremony on September 1, 2018. It's a brand-new casino, so we can't talk about heritage here. However, there is an important advantage to a new venue: it's modern and classy!
Tiverton is one of the most impressive gambling facilities in New England. It expands over 85K square feet. It has 1,000 slot machines and 32 game tables at the moment.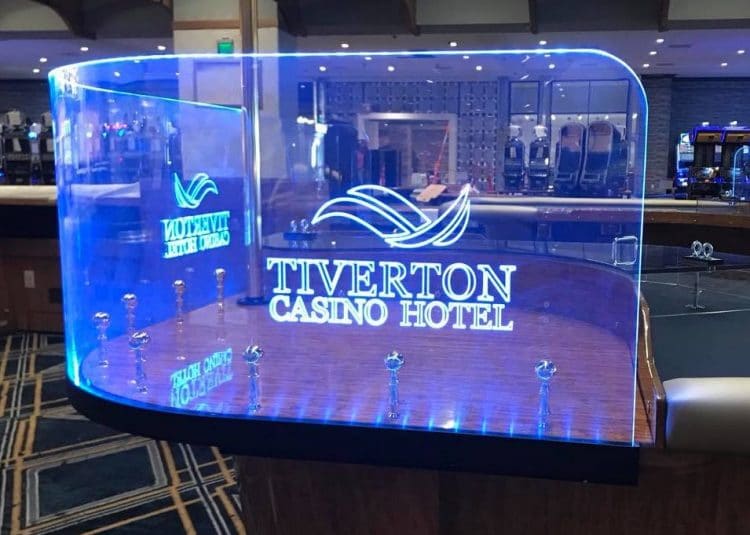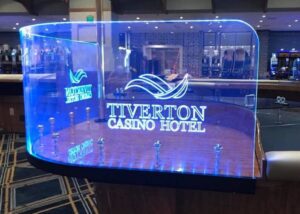 As soon as it was launched, RI gamblers started asking: "is betting in Rhode Island legal?" At that point, sports betting was still not regulated in the Ocean State. The PASPA was overturned in May 2018, so the legalization of sports betting in Rhode Island was close. In March 2019, Twin River became the first RI casino to accept sports bets. Tiverton got its license, too.
Unlike Twin River, Tiverton does not operate a Rhode Island online casino. Online gambling is still not legalized in the state. Twin River has a social casino online, so you can play for free. Hopefully, Tiverton will launch its own platform soon.
Sports Betting at Tiverton Casino
The Tiverton sportsbook is one of the two options for sports betting in the state. You can bet on sports in the casino venue. Your wagers will be accepted from 9 AM to midnight on weekends, and from 11 AM to midnight on weekdays. This is an outstanding facility with options to watch games and bet on them while they last.
Tiverton Casino With Sportsbook Inside
If you don't like betting in the casino, you can count on the online platform. It's a joint platform between Tiverton and Twin City. Both of these casinos partnered with William Hill to make online wagering available for RI residents.
The website is user-friendly and informative for newbies. You can get info about the types of bets you can place, and the games that you can bet on. The only downside is that when you create a profile, you have to show up at Tiverton to verify it. You'll need to show an ID and provide the last four digits of your social security number. Once you do that, you'll be able to deposit and withdraw money.
The downside of Sportsbook Rhode Island being the only betting website in the state is that there's no welcome bonus. The lack of competitive online gaming sportsbooks doesn't force the company to attract you with bonus policies.
Mobile Betting
The mobile app is available for Apple and Android devices. Currently, the Android app is not available in the Google Play store, but you can download it from the official website: SportsBetRhodeIsland.com.
Horse Betting in Tiverton Casino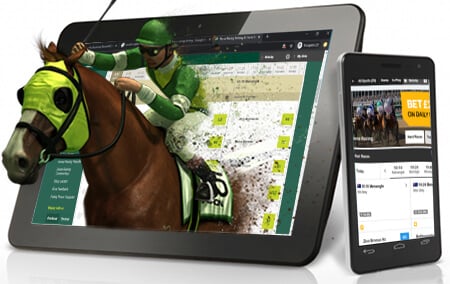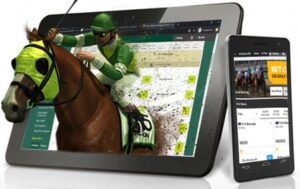 The Rhode Island horse racing betting market lacks one important thing: a racetrack. There is no active horse racetrack in the state. However, that doesn't mean that you cannot bet on horse races.
Horse race betting has been available long before overall sports betting was legalized in the state.
In Tiverton Casino, there's an impressive simulcast theater. You can watch races being broadcasted live on giant screens. The seats are comfortable, so horse race fans don't mind spending hours watching and betting on thoroughbred, harness, and greyhound races.
All the major races, such as the Breeders' Cup, the Preakness, and the Kentucky Derby, are shown live.
Keep in mind that the Tiverton Racebook is closed on Mondays and Tuesdays. It's open on any other day, and these are the working hours:
12 PM – 8 PM on Wednesday, Thursday, and Sunday
12 PM – 12 AM on Friday and Saturday
Types of Sports Wagers in Tiverton Casino
These are the types of bets you can place through the Sportsbook Rhode Island app and website:
Money Line – This type of bet shows you the amount that you need to bet in order to win $100, or the amount you will win by betting $100.
Point Spread – The point is set by the bookie. You can bet that the favored team will win by "covering the spread" (by a larger difference).
Teaser – You can adjust the point spread to your favor. In basketball, Tiverton offers 4, 5, and 6-point teasers. For football, 6, 6.5, and 7-point teasers are available.
Proposition – A prop bet is focused on specific events during a game. For example, you can guess the team or player to score the first touchdown.
Futures – You can predict an event whose outcome won't be known in the near future. For example, you can bet on the team that will win next year's NBA championship.
Straight Bet – This is a single wager that's determined by a total, money line, or a point spread.
Parlay – This type of bet slip combines two or more wagers into one. You must get them all right to win the amount.
Round Robin – When you combine multiple parlays in a single slip, you get a round-robin.
You can check the house rules on the official website of Tiverton Casino. It gives you clear explanations on what the bets mean and what types of wagers you can place on different leagues: NBA, NHL, golf, MMA, desktop and mobile NFL betting, and much more.
What Casino Games Can You Play at Tiverton?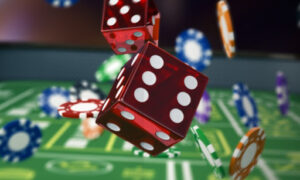 Tiverton has an impressive gaming space that features 1,000 video slots. These are among the most popular ones:
Fortune Gong
Lighting Link
Dragon Link
Wheel of Fortune 4F
Wheel of Fortune Cash Link
You can win potential jackpots going above $30K on a single spin.
The selection of table games is impressive, too. There are 18 hybrid stadium seats and 32 live games. The table games include variations of poker, blackjack, baccarat, roulette, craps, and more.
Tiverton Casino Bonus Offers
Currently, the Tiverton Casino Sportsbook does not offer any bonuses for first-time players on desktop and mobile betting. It would be great to see a deposit match, which is becoming an industry standard.
In the casino, you may get free spins and loyalty bonuses, depending on the active offers. There is a Tiverton Players Club. When you sign up, you get a $5 bonus to spend on slots. You will get a card, which earns you points whenever you play. You can redeem reward points for drinks and food in the casino, as well as for rewards store purchases.
Tiverton Casino Contacts
There is an easy contact form on the Tiverton Casino Hotel website. If you have any questions, you can ask them and will get a response ASAP. The customer support system works well.
The website also features a telephone number: (401) 816-6000
The contact email is [email protected]
The address is 777 Tiverton Casino Blvd, Tiverton, RI
Opening Hours
The Tiverton Casino Hotel is open 24 hours. The valet hours are 9 AM – 1 AM from Sunday to Thursday, and 9 AM – 2 AM on Friday and Saturday.
Customer Service
There is one thing that distinguishes a luxurious casino venue from an average gambling facility: you feel like a valued customer there. The support system works 24/7, and you feel like you can ask any question without annoying anyone.
The support system at Tiverton works impeccably. You can reach the agents by phone, by email, or by the simple contact form offered on the website. They don't take long to respond. They are trained to listen to you and find a solution to any issue you experience while staying at the hotel, gambling in the casino, or placing sports bets online.
Conclusion: Is Tiverton a Good Casino?
Overall, Tiverton meets a gambler's high standards. The hotel is clean and luxurious. The casino is spacious, and it offers you a great selection of table games and slots. The online sportsbook is reliable, too.
The only downside is that, unlike Twin River, Tiverton does not allow you to play casino games online. It would be great to see a sweepstakes website, which would enable you to use the points for real chips in the land-based casino. However, since the State Lottery controls the venue and it doesn't allow online betting, for now, we can't raise our expectations that high. There's a lot of potential in the online gambling industry, and this casino has all the right features to enter it. We just need to be patient for the Rhode Island legal framework to change in that aspect.
Do you wonder what other casinos are available in Rhode Island? We have prepared all needed information in our online casino reviews to be sure that you will make the right choice.