The Ultimate Twin River Casino Review: All Info in One Place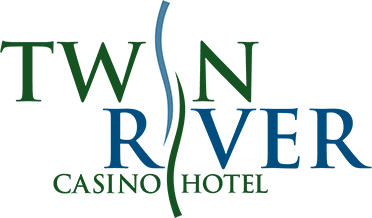 Screenshots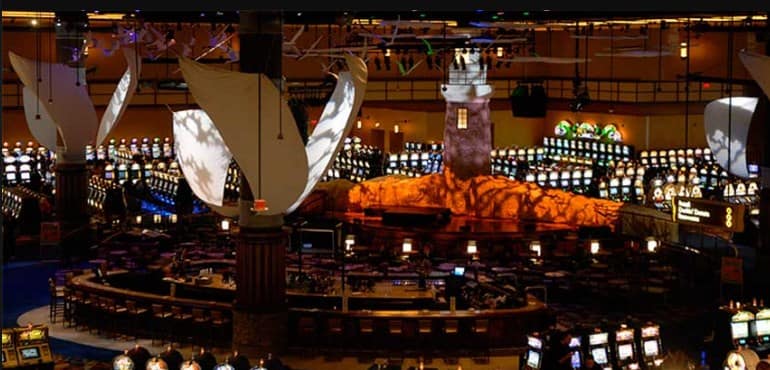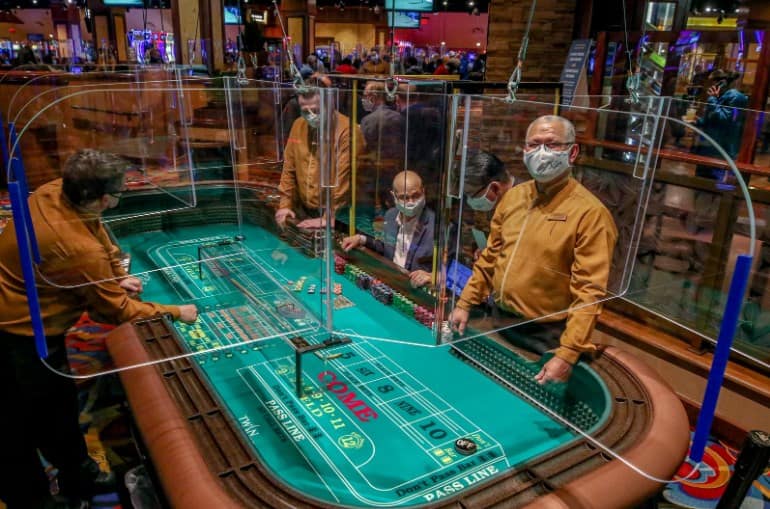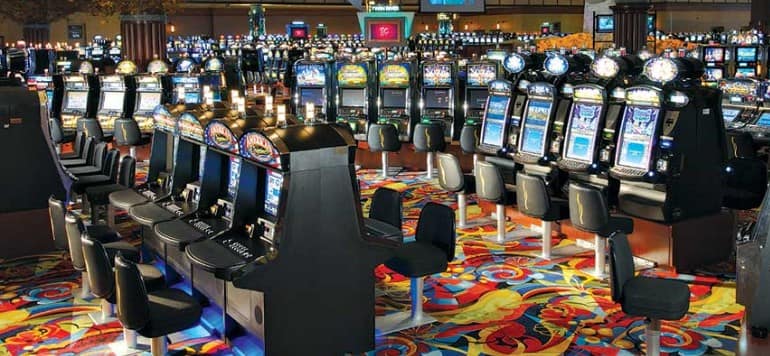 Twin Rivers doesn't have too many competitors in RI. It's one of the two Rhode Island online casino venues that operate under a license by the State Lottery. Despite the non-competitive environment, the casino consistently grows and improves.
It's the largest entertainment and gambling venue in the state, located in Lincoln. It is modern, clean, and very popular not only for RI gamblers but for tourists from all over the USA as well. They come here to rest, enjoy the world-class restaurant, and win some money while they are there.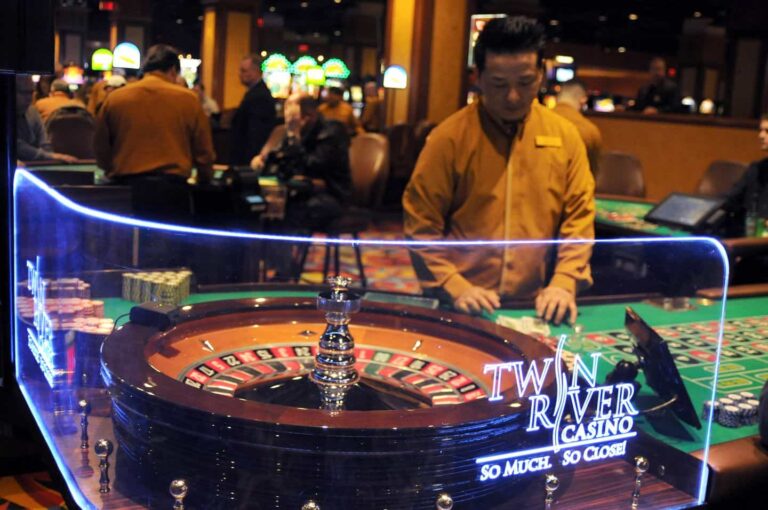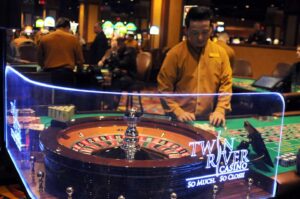 The facility was formerly known as Lincoln Park. It was completely renovated and modernized. There are over 5,000 gaming positions across 162,000 square-feet space. Gamblers can choose between 114 live table games and an impressive selection of 4,200 slots and virtual table games.
As soon as sports betting was legalized in the Ocean State, Twin River became the first casino to obtain a license and develop its own sportsbook. In collaboration with Tiverton, Twin River launched the Sportsbook Rhode Island app, which is the only online provider of sports wagering for residents of Rhodes Island.
Is Sports Betting Available at Twin River Casino?
The Rhode Island Lottery issued a license for a Twin River sportsbook as soon as sports betting was legalized through Senate Bill 37. This is one of the two available retail sportsbooks in the state. The other one is at Tiverton Casino.
The house rules allow you to bet on several sports:
Football
Soccer
Golf
Auto racing
Baseball
Softball
Basketball
Hockey
Tennis, and more
The only restriction is on games that Rhode Island college teams play. You cannot bet on those, but other collegiate games are included in the offer.
You can choose how you bet on sports. The available types of wagers include parlays, in-play bets, teasers, money lines, point spreads, pleasers, props, futures, straight bets, round robins, and more.
Twin Rivers recently launched a second betting location: The Sportsbook Bar & Grill. It's an impressive place with cozy seating areas, large odds boards, and over 100 TVs. The bar serves delicious food and all kinds of drinks.
William Hill – Twin River's Partner for the Online Sportsbook
The Sportsbook Rhode Island Online is the only option for online wagering. It was developed in collaboration with Tiverton Casino. Both venues partnered with IGT and William Hill to develop and offer a platform for online betting.
The website is very easy to use. The only downside is that when you create a profile, you have to verify it by showing up personally at the casino. For those who don't live close to the property, the process may be time-consuming and inconvenient. But there's an advantage to living in a small state: the casino is not too far, no matter where you live. If Tiverton is closer to your location, you can verify your profile there. You must be at least 18 years old to create a profile and start betting online.
The online sportsbook lets you bet on a myriad of sports: college and pro basketball, NASCAR, boxing, football (all leagues), rugby, soccer (all-league), table tennis, tennis, hockey, and more. There's a great tutorial on the "How to Play" page. If you're a beginner at sports betting, it will clarify the types of bets that you can place on the site.
Twin River Casino Mobile App
Mobile betting is so convenient. Sure; spending time in Twin Rivers is amazing, but sometimes you get inspired to wager while you're at work. Maybe you don't feel like mingling with other people. The mobile app for iOS is available in Apple's App Store. The Android app is not available in the Google Play Store yet, but you can download it from the sportsbook's website.
The app features the full offer.
Horse Betting at Twin River Casino
You would expect the official online gaming sportsbooks to allow you to bet on horse races, but they don't. This brings us to a question: is betting in Rhode Island legal? Yes; it is. It's been legal in the state before sports betting was allowed.
The only problem is that Twin River doesn't enable you to place these bets online at the moment.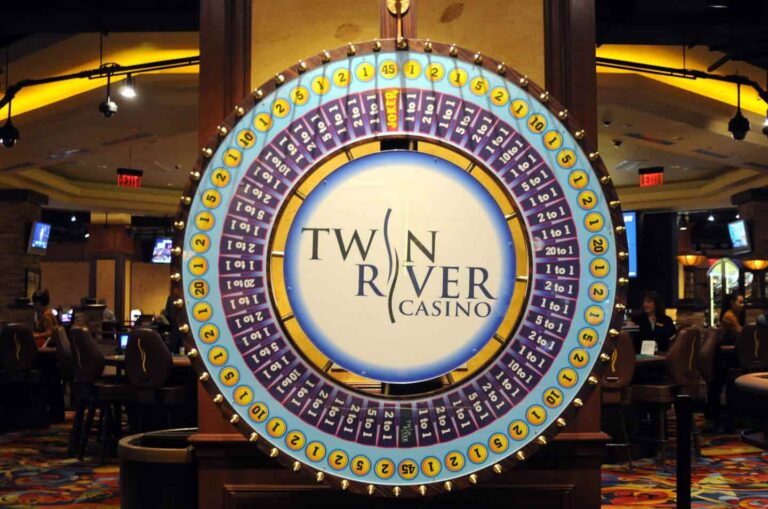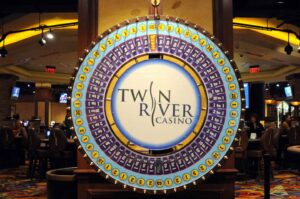 That's not such a big issue. The casino's racebook area is nothing short of impressive. You can watch live broadcasts of races from all around the world. You'll have your own screen that allows you to place the bets, but you can also watch the races on big screens.
In addition to horse races, you can also enjoy a greyhound racing program and harness racing program.
The Twin River Rhode Island horse racing betting area is not open on Tuesday. It opens at 12.00 PM on all other days of the week.
We shouldn't forget to mention the fact that Twin River does not have its own race track. It enables off-track betting. Unfortunately, there isn't an active race track in Rhode Island at the moment.
Casino Games Available at the Twin River
The selection of Twin River casino games includes all table games and a huge number of slots.
The venue has 114 tables for live games:
11 roulette tables
4 Craps tables
7 Three Card poker tables
9 baccarat tables,
49 blackjack tables
3 Pai Gow Poker tables
3 Let It Ride tables
5 Spanish 21 tables
23 tables in the poker room
If you want a spot in the poker room, it's best to call ahead and reserve on this number: 401-475-8300. There's no need to make a reservation for another table game.
As for slots, you can choose any of the 4,100 machines on a massive gaming space of 190,000 square feet. Progressive jackpots (reaching over $2.6 million) are included in the offer. The machines accept small bets of 1 cent and above. The largest bet you can place on a slot is $25.
The Wizard of Oz Ruby Slippers and The Wizard of Oz is the most popular slots in Twin River.
Twin River Casino Promo Offers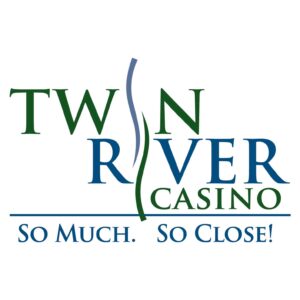 Unfortunately, the Twin River Casino Sportsbook doesn't offer any bonuses. We got used to a welcome bonus with a deposit match when using other online gambling and betting services. It's strange to see a clean sportsbook that gives you an offer, which you can take or leave. I guess that's what the lack of competition does.
But here's the good news: although online sports betting is still not legalized in Rhode Island, Twin River offers an online casino. It's a social casino, so you can't play for real money. You get to play for free, just for fun.
But you can earn up to $500 in gift cards in this casino. You can redeem those gift cards at the Twin River Casino Hotel. Make sure to check the redemption period, since you have to claim your reward within 30 days.
So maybe you won't play in a real online casino with free spins when you sign up. You won't be able to deposit and withdraw money. However, Twin River still has a decent offer for its first-time players. The casino is close no matter where you live, so you can spend a nice day or an evening there when you're ready to redeem your gift card.
Twin River Casino Contacts
If you have questions about the online social casino, you can send an email at [email protected]
The number for general inquiries about the casino is (401) 723-3200
Twin River is really cool about win-loss statements, which you need for your annual tax reports. You can get them emailed if you request them through the Twin River mobile app.
Twin River Casino Opening Hours
Twin River Casino Hotel is open 24 hours.
If you're interested in the poker room, you can call to reserve a spot at a specific time.
Customer Service
Twin River made a great reputation through its customer support team.
On the website, you'll find contact options for win-loss statements, directions, careers, press, and more.
Do you wonder what other casinos are available in Rhode Island? We have prepared all the needed information in our online casino reviews to be sure that you will make the right choice.